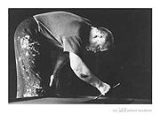 Ad Reinhardt
Adolph Dietrich Friedrich Reinhardt
("Ad" Reinhardt) (December 24, 1913 – August 30, 1967) was a painter, writer, and pioneer of conceptual and minimal art. He was also a critic of abstract expressionism.
Sourced
Ad Reinhardt:
The artists is responsible for his history and his nature, his history is part of his nature.

Gerhard Richter, Doubt and belief in painting, Robert Storr, MOMA, New York, 2003, p. 32 note 1
Unsourced
Art is art-as-art and everything else is everything else.
Purer and emptier...non-objective, non-representational, non-figurative, non-imagist, non-expressionist, non-subjective .** On abstract art
The only way to say what abstract is, is to say what it is not.