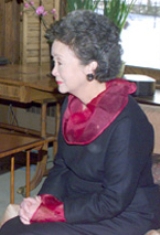 Adrienne Clarkson
Adrienne Clarkson
was the Governor General of Canada from 1999 to 2005. She was a Hakka born, (as Chinese: 伍冰枝; pinyin: Wǔ Bīngzhī, Hakka: Ńg Pên-kî) in Hong Kong, but raised in Ontario. She married David Clarkson but later divorced, then married John Ralston Saul Prior to politics, she worked in broadcasting.
Unsourced
Our problem with the U.S. is not insufficient access; it is debilitating dependence.
As a woman, I fear that the gradual Americanization of our society might mean that I could not get on a subway alone.
European countries are basically tribal. The French, Germans, and Italians are tribes... racism can arise in a country like that. ... We [Canadians] are not a tribe. We are a series, a group, a conglomeration of people. ... That is a positive thing in many ways.
I am above politics.
at Royal Military College of Canada commencement: You will be called upon to take your place in modern Canada and in the modern world.... You will also be called upon to lead...and a leader must stand for something. You must not only be aware of who you are. You must also be defined by what you do.