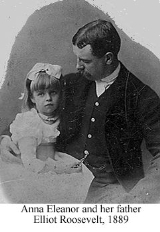 Eleanor Roosevelt
Anna Eleanor Roosevelt
was a social activist, first lady and the wife of US President Franklin Delano Roosevelt.
Sourced
Do what you feel in your heart to be right — for you'll be criticized anyway. You'll be "damned if you do, and damned if you don't."

As quoted in How to Stop Worrying and Start Living (1944; 1948) by Dale Carnegie; though Roosevelt has sometimes been credited with the originating the expression, "Damned if you do and damned if you don't" is set in quote marks, indicating she herself was quoting a common expression in saying this.
Understanding is a two-way street.

As quoted in Modern Quotations for Ready Reference (1947) by Arthur Richmond, p. 455
It isn't enough to talk about peace. One must believe in it. And it isn't enough to believe in it. One must work at it.

Voice of America broadcast (11 November 1951)
We have to face the fact that either all of us are going to die together or we are going to learn to live together and if we are to live together we have to talk.

The New York Times (1960), as cited in The Beacon Book of Quotations by Women (1992) by Rosalie Maggio, p. 156
To me who dreamed so much as a child, who made a dreamworld in which I was the heroine of an unending story, the lives of people around me continued to have a certain storybook quality. I learned something which has stood me in good stead many times — The most important thing in any relationship is not what you get but what you give.

Preface (December 1960) to The Autobiography of Eleanor Roosevelt (1961), p. xvi; the last line was originally used in the initial edition of her autobiography: This Is My Story (1937).
Life was meant to be lived, and curiosity must be kept alive. One must never, for whatever reason, turn his back on life.

Preface (December 1960) to The Autobiography of Eleanor Roosevelt (1961), p. xix
I think, at a child's birth, if a mother could ask a fairy godmother to endow it with the most useful gift, that gift would be curiosity.

As quoted in Todays Health (October 1966)
When you cease to make a contribution, you begin to die.

As quoted in Eleanor : The Years Alone (1972) by Joseph P. Lash
I think that somehow, we learn who we really are and then live with that decision.

As quoted in Peter's Quotations : Ideas for Our Time (1972) by Laurence J. Peter, p. 5
Friendship with oneself is all-important, because without it one cannot be friends with anyone else in the world.

As quoted in The Beacon Book of Quotations by Women (1992) by Rosalie Maggio, p. 130
A woman is like a teabag. You never know how strong she is until she gets into hot water.

As quoted in The WIt and Wisdom of Eleanor Roosevelt (1996), p. 199
A very similar remark was attributed to Nancy Reagan, in The Observer (29 March 1981): "A woman is like a teabag — only in hot water do you realize how strong she is."
Variant: A woman is like a tea bag, you can not tell how strong she is until you put her in hot water.
The future belongs to those who believe in the beauty of their dreams.

As quoted in All You Can Do Is All You Can Do, But All You Can Do Is Enough! (1988) by A. L. Williams, p. 73, and in It Seems to Me : Selected Letters of Eleanor Roosevelt (2001) by Leonard C. Schlup and Donald W. Whisenhunt, p. 2
When will our consciences grow so tender that we will act to prevent human misery rather than avenge it?

As quoted in "On The Universal Declaration of Human Rights" by Hillary Rodham Clinton in Issues of Democracy Vol. 3, No. 3 (October 1998), p. 11
You get more joy out of the giving to others, and should put a good deal of thought into the happiness you are able to give.

As quoted in Sheroes: Bold, Brash, and Absolutely Unabashed Superwomen from Susan B. Anthony to Xena (1998) by Varla Ventura, p. 150
I think I have a good deal of my Uncle Theodore in me, because I could not, at any age, be content to take my place by the fireside and simply look on.

As quoted in The Three Roosevelts: Patrician Leaders Who Transformed America (2002) by James MacGregor Burns ad Susan Dunn, p. 563
Variant: I could not at any age be content to take my place in a corner by the fireside and simply look on.
It is not fair to ask of others what you are unwilling to do yourself.

As quoted in Leadership Legacies : Words to Enlighten, Persuade and Inspire (2005) by Myles Martel, p. 46
This Is My Story (1937)
No one can make you feel inferior without your consent.

Quoted in Vidette-Messenger (Valparaiso, Ind.), 1941-06-07
Up to a certain point it is good for us to know that there are people in the world who will give us love and unquestioned loyalty to the limit of their ability. I doubt, however, if it is good for us to feel assured of this without the accompanying obligation of having to justify this devotion by our behavior.
The most important thing in any relationship is not what you get but what you give.
You Learn by Living (1960)
One's philosophy is not best expressed in words; it is expressed in the choices one makes. In stopping to think through the meaning of what I have learned, there is much that I believe intensely, much I am unsure of. In the long run, we shape our lives and we shape ourselves. The process never ends until we die. And, the choices we make are ultimately our own responsibility.
One thing life has taught me: if you are interested, you never have to look for new interests. They come to you. ... All you need to do is to be curious, receptive, eager for experience. And there's one strange thing: when you are genuinely interested in one thing, it will always lead to something else.
You gain strength, courage and confidence by every experience in which you really stop to look fear in the face. You are able to say to yourself, "I have lived through this horror. I can take the next thing that comes along." ... You must do the thing you think you cannot do.
A mature person is one who does not think only in absolutes, who is able to be objective even when deeply stirred emotionally, who has learned that there is both good and bad in all people and all things, and who walks humbly and deals charitably with the circumstances of life, knowing that in this world no one is all-knowing and therefore all of us need both love and charity.
Happiness is not a goal, it is a by-product. Paradoxically, the one sure way not to be happy is deliberately to map out a way of life in which one would please oneself completely and exclusively.
My Day (1935 - 1962)
Her daily newspaper column : selections at PBS
It takes courage to love, but pain through love is the purifying fire which those who love generously know. We all know people who are so much afraid of pain that they shut themselves up like clams in a shell and, giving out nothing, receive nothing and therefore shrink until life is a mere living death. (1 April 1939)
I was one of those who was very happy when the original prohibition amendment passed. I thought innocently that a law in this country would automatically be complied with, and my own observation led me to feel rather ardently that the less strong liquor anyone consumed the better it was. During prohibition I observed the law meticulously, but I came gradually to see that laws are only observed with the consent of the individuals concerned and a moral change still depends on the individual and not on the passage of any law. (14 July 1939)
Little by little it dawned upon me that this law was not making people drink any less, but it was making hypocrites and law breakers of a great number of people. It seemed to me best to go back to the old situation in which, if a man or woman drank to excess, they were injuring themselves and their immediate family and friends and the act was a violation against their own sense of morality and no violation against the law of the land. (14 July 1939)
Will people ever be wise enough to refuse to follow bad leaders or to take away the freedom of other people? (16 October 1939)
No writing has any real value which is not the expression of genuine thought and feeling. (20 December 1939)
When life is too easy for us, we must beware or we may not be ready to meet the blows which sooner or later come to everyone, rich or poor. (23 February 1940)
I have a great belief in spiritual force, but I think we have to realize that spiritual force alone has to have material force with it so long as we live in a material world. The two together make a strong combination. (17 May 1940)
Sometimes I wonder if we shall ever grow up in our politics and say definite things which mean something, or whether we shall always go on using generalities to which everyone can subscribe, and which mean very little. (1 July 1940)
One should always sleep in all of one's guest beds, to make sure that they are comfortable. (11 September 1941)
Long ago, I made up my mind that when things were said involving only me, I would pay no attention to them, except when valid criticism was carried by which I could profit. (14 January 1942)
One of the blessings of age is to learn not to part on a note of sharpness, to treasure the moments spent with those we love, and to make them whenever possible good to remember, for time is short. (5 February 1943)
At all times, day by day, we have to continue fighting for freedom of religion, freedom of speech, and freedom from want — for these are things that must be gained in peace as well as in war. (15 April 1943)
One of the best ways of enslaving a people is to keep them from education... The second way of enslaving a people is to suppress the sources of information, not only by burning books but by controlling all the other ways in which ideas are transmitted. (11 May 1943)
Only a man's character is the real criterion of worth. (22 August 1944)
I have never felt that anything really mattered but the satisfaction of knowing that you stood for the things in which you believed and had done the very best you could. (8 November 1944)
I have waited a while before saying anything about the Un-American Activities Committee's current investigation of the Hollywood film industry. I would not be very much surprised if some writers or actors or stagehands, or what not, were found to have Communist leanings, but I was surprised to find that, at the start of the inquiry, some of the big producers were so chicken-hearted about speaking up for the freedom of their industry.
One thing is sure — none of the arts flourishes on censorship and repression. And by this time it should be evident that the American public is capable of doing its own censoring. Certainly, the Thomas Committee is growing more ludicrous daily. (29 October 1947)
The film industry is a great industry with infinite possibilities for good and bad. Its primary purpose is to entertain people. On the side, it can do many other things. It can popularize certain ideals, it can make education palatable. But in the long run, the judge who decides whether what it does is good or bad is the man or woman who attends the movies. In a democratic country I do not think the public will tolerate a removal of its right to decide what it thinks of the ideas and performances of those who make the movie industry work. (29 October 1947)
What is going on in the Un-American Activities Committee worries me primarily because little people have become frightened and we find ourselves living in the atmosphere of a police state, where people close doors before they state what they think or look over their shoulders apprehensively before they express an opinion.
I have been one of those who have carried the fight for complete freedom of information in the United Nations. And while accepting the fact that some of our press, our radio commentators, our prominent citizens and our movies may at times be blamed legitimately for things they have said and done, still I feel that the fundamental right of freedom of thought and expression is essential. If you curtail what the other fellow says and does, you curtail what you yourself may say and do.
In our country we must trust the people to hear and see both the good and the bad and to choose the good. The Un-American Activities Committee seems to me to be better for a police state than for the USA. (29 October 1947)
The mobilization of world opinion and methods of negotiation should be developed and used by every nation in order to strengthen the United Nations. Then if we are forced into war, it will be because there has been no way to prevent it through negotiation and the mobilization of world opinion. In which case we should have the voluntary support of many nations, which is far better than the decision of one nation alone, or even of a few nations. (16 April 1954)
This is a time for action — not for war, but for mobilization of every bit of peace machinery. It is also a time for facing the fact that you cannot use a weapon, even though it is the weapon that gives you greater strength than other nations, if it is so destructive that it practically wipes out large areas of land and great numbers of innocent people. (16 April 1954 )
If the use of leisure time is confined to looking at TV for a few extra hours every day, we will deteriorate as a people. (5 November 1958)
The arts in every field — music, drama, sculpture, painting — we can learn to appreciate and enjoy. We need not be artists, but we should be able to appreciate the work of artists. (5 November 1958)
If man is to be liberated to enjoy more leisure, he must also be prepared to enjoy this leisure fully and creatively. For people to have more time to read, to take part in their civic obligations, to know more about how their government functions and who their officials are might mean in a democracy a great improvement in the democratic processes. Let's begin, then, to think how we can prepare old and young for these new opportunities. Let's not wait until they come upon us suddenly and we have a crisis that we will be ill prepared to meet. (5 November 1958)
In times past, the question usually asked by women was "How can we best help to defend our nation?" I cannot remember a time when the question on so many people's lips was "How can we prevent war?"
There is a widespread understanding among the people of this nation, and probably among the people of the world, that there is no safety except through the prevention of war. For many years war has been looked upon as almost inevitable in the solution of any question that has arisen between nations, and the nation that was strong enough to do so went about building up its defenses and its power to attack. It felt that it could count on these two things for safety. (20 December 1961)
A consciousness of the fact that war means practically total destruction is the reason, I think, for the rising tide to prevent what seems such a senseless procedure. I understand that it is perhaps difficult for some people, whose lives have been lived with a sense of the need for military development, to envisage the possibility of being no longer needed. But the average citizen is beginning to think more and more of the need to develop machinery to settle difficulties in the world without destruction or the use of atomic bombs. (20 December 1961)
We should begin in our own environment and in our own community as far as possible to build a peace-loving attitude and learn to discipline ourselves to accept, in the small things of our lives, mediation and arbitration. As individuals, there is little that any of us can do to prevent an accidental use of bombs in the hands of those who already have them. We can register, however, with our government a firm protest against granting the knowledge and the use of these weapons to those who do not now have them. (20 December 1961)
As long as we are not actually destroyed, we can work to gain greater understanding of other peoples and to try to present to the peoples of the world the values of our own beliefs. We can do this by demonstrating our conviction that human life is worth preserving and that we are willing to help others to enjoy benefits of our civilization just as we have enjoyed it. (20 December 1961)
Tomorrow Is Now (1963)
We face the future fortified with the lessons we have learned from the past. It is today that we must create the world of the future. Spinoza, I think, pointed out that we ourselves can make experience valuable when, by imagination and reason, we turn it into foresight.
Human resources are the most valuable assets the world has. They are all needed desperately.
There never has been security. No man has ever known what he would meet around the next corner; if life were predictable it would cease to be life, and be without flavor.
We must know what we think and speak out, even at the risk of unpopularity. In the final analysis, a democratic government represents the sum total of the courage and the integrity of its individuals. It cannot be better than they are. ... In the long run there is no more exhilarating experience than to determine one's position, state it bravely and then act boldly.
What we must learn to do is to create unbreakable bonds between the sciences and the humanities. We cannot procrastinate. The world of the future is in our making. Tomorrow is now.
Example is the best lesson there is.
Disputed
Great minds discuss ideas, average minds discuss events, small minds discuss people.

This has been quoted without citation as a statement of Eleanor Roosevelt. It is usually attributed to Admiral Hyman G. Rickover, but though Rickover quoted this, he did not claim to be the author of it; in "The World of the Uneducated" in The Saturday Evening Post (28 November 1959), he prefaces it with "As the unknown sage puts it..."
Great minds discuss ideas, average minds discuss events, and little minds discuss people.

In this form it was quoted as an anonymous epigram in A Guide to Effective Public Speaking (1953) by Lawrence Henry Mouat

Several other variants or derivatives of the expression exist, but none provide a definite author:

Great minds discuss ideas, mediocre minds discuss events, small minds discuss personalities.
Great minds discuss ideas
Average minds discuss events
Small minds discuss people
Small minds discuss things
Average minds discuss people
Great minds discuss ideas
Misattributed
America is all about speed. Hot, nasty, bad-ass speed.

Deliberately misattributed for comic effect in the opening of the film Talladega Nights: The Ballad of Ricky Bobby (2006)
Quotes about Roosevelt
I have lost more than a beloved friend. I have lost an inspiration. She would rather light candles than curse the darkness, and her glow has warmed the world.

Adlai Stevenson, in a eulogy in the United Nations General Assembly (7 November 1962) adapting a statement that is the motto of the The Christophers, derived from a Chinese proverb (which has sometimes been attributed to Confucius).