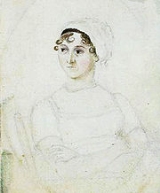 Jane Austen
Jane Austen
was an English novelist who recorded the domestic manners of the landed gentry. She is known for her classically understated style and sly, ironic humour.
See also:
Sense and Sensibility (1811)
Pride and Prejudice (1813)
Mansfield Park (1814)
Emma (1815)
Northanger Abbey (1817)
Persuasion (1818)
Letters
Here I am once more in this scene of dissipation and vice, and I begin already to find my morals corrupted.

Letter (August 1796) upon arriving in London
What dreadful hot weather we have! It keeps one in a continual state of inelegance.
Next week I shall begin my operations on my hat, on which you know my principal hopes of happiness depend.
I do not want people to be very agreeable, as it saves me the trouble of liking them a great deal.

Letter to her sister Cassandra (1798-12-24)
You deserve a longer letter than this; but it is my unhappy fate seldom to treat people so well as they deserve.

Letter to her sister Cassandra (1798-12-24)
I had a very pleasant evening, however, though you will probably find out that there was no particular reason for it; but I do not think it worth while to wait for enjoyment until there is some real opportunity for it.
Besides, I cannot help thinking that it is more natural to have flowers grow out of the head than fruit.

Letter to Cassandra (1799-06-11), on decorating her hat
In Paragon we met Mrs Foley & Mrs Dowdeswell with her yellow shawl airing out—& at the bottom of Kinsdown Hill we met a Gentleman in a Buggy, who on minute examination turned out to be Dr Hall—& Dr Hall in such very deep mourning that either his Mother, his Wife, or himself must be dead.
We have been exceedingly busy ever since you went away. In the first place we have had to rejoice two or three times everyday at your having such very delightful weather for the whole of your journey...
I have now attained the true art of letter-writing, which we are always told, is to express on paper exactly what one would say to the same person by word of mouth.
You will have a great deal of unreserved discourse with Mrs. K., I dare say, upon this subject, as well as upon many other of our family matters. Abuse everybody but me.
I begin already to weigh my words & sentences more than I did, & am looking about for a sentiment, an illustration, or a metaphor in every corner of the room. Could my Ideas flow as fast as the rain in the Storecloset it would be charming.
How horrible it is to have so many people killed! And what a blessing that one cares for none of them!

Letter (1811-05-31), referring to the Peninsular War
I will not say that your mulberry-trees are dead, but I am afraid they are not alive.
I could not sit seriously down to write a serious romance under any other motive than to save my life; and if it were indispensable for me to keep it up and never relax into laughing at myself or at other people, I am sure I should be hung before I had finished the first chapter.

Letter to Mr. Clarke, librarian to the Prince Regent (1816-04-01)
The little bit (two inches wide) of ivory on which I work with so fine a brush as produces little effect after much labour.

Letter to J. Edward Austen (1816-12-16)
Single Women have a dreadful propensity for being poor—which is one very strong argument in favour of Matrimony...
Works
Sophia shrieked and fainted on the ground--I screamed and instantly ran mad--. We remained thus mutually deprived of our senses some minutes, and on regaining them were deprived of them again. For an hour and a quarter did we continue in this unfortunate situation.

Love and Friendship (1790)
"I am afraid", replied Elinor, "that the pleasantness of an employment does not always evince its propriety."

Sense and Sensibility (1811)
People always live forever when there is an annuity to be paid them.

Sense and Sensibility (1811)
It is a truth universally acknowledged that a single man in possession of a good fortune must be in want of a wife.

Pride and Prejudice (1813)
To be fond of dancing was a certain step towards falling in love.

Pride and Prejudice (1813)
Happiness in marriage is entirely a matter of chance.

Pride and Prejudice (1813)
One cannot be always laughing at a man without now and then stumbling on something witty.

Pride and Prejudice (1813)
One does not love a place the less for having suffered in it, unless it has been all suffering, nothing but suffering.
It was, perhaps, one of those cases in which advice is good or bad only as the event decides.
A large income is the best recipe for happiness I ever heard of.
An engaged woman is always more agreeable than a disengaged. She is satisfied with herself. Her cares are over, and she feels that she may exert all her powers of pleasing without suspicion. All is safe with a lady engaged: no harm can be done.
We do not look in great cities for our best morality.
She was of course only too good for him; but as nobody minds having what is too good for them, he was very steadily earnest in the pursuit of the blessing...
I speak what appears to me the general opinion; and where an opinion is general, it is usually correct.
Let other pens dwell on guilt and misery.
"I shall soon be rested," said Fanny; "to sit in the shade on a fine day, and look upon verdure, is the most perfect refreshment."
it will, I believe, be everywhere found, that as the clergy are, or are not what they ought to be, so are the rest of the nation.
It is a lovely night, and they are much to be pitied who have not been taught to feel, in some degree, as you do; who have not, at least, been given a taste for Nature in early life. They lose a great deal.
But there certainly are not so many men of large fortune in the world as there are pretty women to deserve them.
One half of the world cannot understand the pleasures of the other.
Business, you know, may bring money, but friendship hardly ever does.
...why did we wait for any thing?--why not seize the pleasure at once?--How often is happiness destroyed by preparation, foolish preparation!
Human nature is so well disposed towards those who are in interesting situations, that a young person, who either marries or dies, is sure of being kindly spoken of.
Surprizes are foolish things. The pleasure is not enhanced, and the inconvenience is often considerable.
There are people who the more you do for them, the less they will do for themselves.
Ah! there is nothing like staying at home for real comfort.
One has not great hopes from Birmingham. I always say there is something direful in the sound...
To look almost pretty is an acquisition of higher delight to a girl who has been looking plain for the first fifteen years of her life than a beauty from her cradle can ever receive.
A woman, especially if she has the misfortune of knowing anything, should conceal it as well as she can.
Could they be perpetrated without being known, in a country like this, where social and literary intercourse is on such a footing, where every man is surrounded by a neighbourhood of voluntary spies, and where roads and newspapers lay everything open?
...from politics, it was an easy step to silence.
It would be mortifying to the feelings of many ladies, could they be made to understand how little the heart of man is affected by what is costly or new in their attire.
A very short trial convinced her that a curricle was the prettiest equipage in the world
The person, be it gentleman or lady, who has not pleasure in a good novel must be intolerably stupid

"Northanger Abbey" (1817)
Misattributed
Life seems but a quick succession of busy nothings.

Said by Fanny Price in a 1999 adaptation of Mansfield Park, actual quote:

Dinner was soon followed by tea and coffee, a ten miles' drive home allowed no waste of hours; and from the time of their sitting down to table, it was a quick succession of busy nothings till the carriage came to the door, and Mrs. Norris, having fidgeted about, and obtained a few pheasants' eggs and a cream cheese from the housekeeper, and made abundance of civil speeches to Mrs. Rushworth, was ready to lead the way.
About Jane Austen
Jane Austen's books, too, are absent from this library. Just that one omission alone would make a fairly good library out of a library that hadn't a book in it.

Mark Twain, Following the Equator (1897)
To me his (Edgar Allan Poe's) prose is unreadable — like Jane Austin's [sic]. No there is a difference. I could read his prose on salary, but not Jane's. Jane is entirely impossible. It seems a great pity that they allowed her to die a natural death.

Mark Twain, letter to William Dean Howells (1909-01-18)
She knew what she knew, like a sound dogmatist: she did not know what she did not — like a sound agnostic.

G. K. Chesterton, The Victorian Age in Literature (1913) [University of Notre Dame Press, 1963], Ch. II: The Great Victorian Novelists (p. 53)
You could not shock her more than she shocks me;
Beside her Joyce seems innocent as grass.
It makes me most uncomfortable to see
An English spinster of the middle class
Describe the amorous effects of "brass,"
Reveal so frankly and with such sobriety
The economic basis of society.

W. H. Auden, Letter to Lord Byron (1936), lines 113–119